2021
A reflective walk with Emma Decent and her poetry and prose in the beautiful hills of Cornholme, Todmorden
A magical and unique experience of landscape, writing and performance. On this slow-paced, guided walk in the hills west of Todmorden, Emma shares poetry and prose inspired by this land that she loves. Reflecting on time, memory and being where you are now, this is an experience to put your feet on the ground and your heart at centre.
Words in the Wild really hit the zeitgeist in 2020, providing calm, connection with nature and reflection in a challenging year. It has drawn people from Lancaster, Wakefield, Bradford and Manchester in Summer and Autumn, as well as local people from Todmorden and Calderdale discovering a corner of their land they did not know. It has shown what is still magically possible in terms of safe live performance. It can still be experienced this winter with current restrictions in new ways.
Make It Yours
Currently in national lockdown, Words in the Wild is not possible for the time being. Watch this space for changes as restrictions ease. In the meantime there are other ways to have the experience including the Words in the Wild pamphlet and as an online experience below.
'It was magical today. I loved the places we went, the moment of calm at the beginning and of course the poems. I also really appreciated all your care and attention to detail regarding Covid and other safety measures.'
Bringing the Outside In
Get a group of friends together on Zoom for a unique shared at-home live online performance of 'Words in the Wild' (including beautiful photography and film of the landscape). Winter's coming but you can still get around the fire/computer and share poems and magic. See these short poetic films of Emma's for a taste Every Day and The Quiet Space. Email Emma for prices and to arrange. emmadecent@talk21.com
'It was wonderful to hear Emma recite her work in the landscape that inspires her. The words flew off the page.' Kate
'Talented Emma gives words to the voices of our valley – its rocks, its hills, its trees.' Ros
'A magical experience.' Karen
'The poems were particularly moving set against the landscape. The evocative image of stories under the stones was very powerful.' Rachel
'A wonderful and unusual way to experience this beautiful landscape.' Jen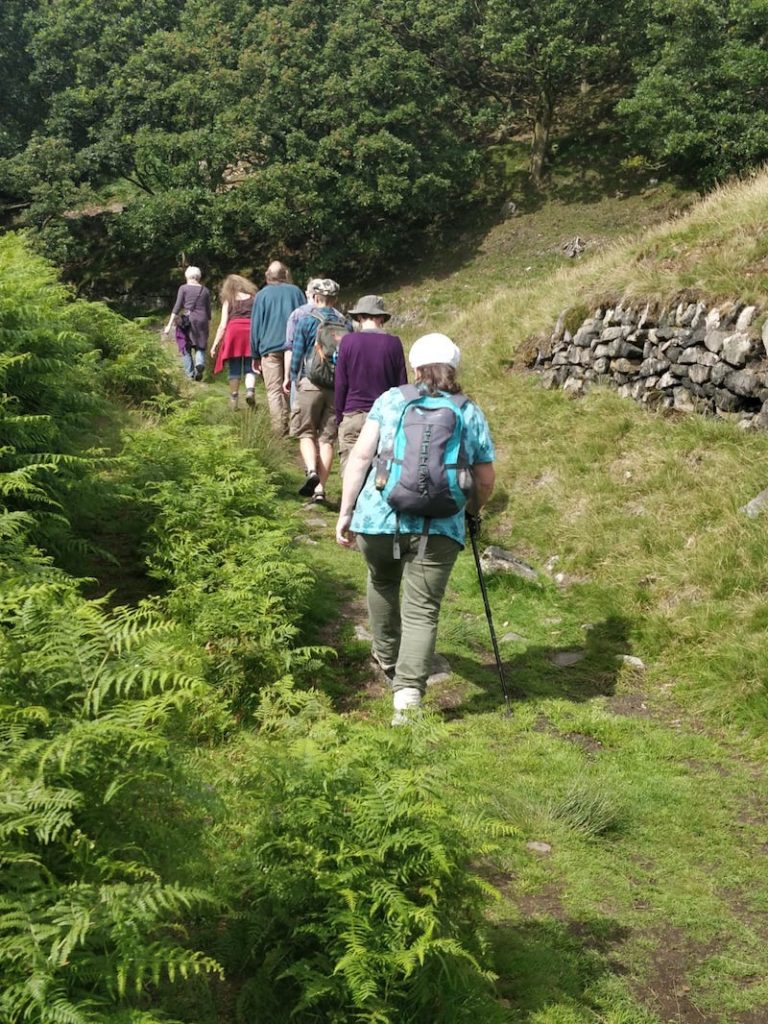 Live performance
Dates throughout Winter
Small groups
Social distancing
A 2.1 mile moderate-strenuous circular walk
* A lighter, shorter route is also now available. *
Suitable 14 years +
Sorry no dogs
Small closed groups of up to 5 £75 including 1 free pamphlet
Words in the Wild is an opportunity to engage deeply with the landscape and the words Emma offers – an inner and outer journey. There are 15 stops along the way for Emma's reflective poetry and prose, much of which connects to the landscape, a compelling performance of Emma's most recent, original work. The walking is done mostly in silence to give space to connect with the landscape through opening the senses, to allow thoughts and chatter to subside, and to let any reflections to arise. At the end there is time to share responses and chat. Duration of event 1¾-2 hours.
On booking Emma will send directions to the start (and finish) point, which is in Cornholme, Todmorden.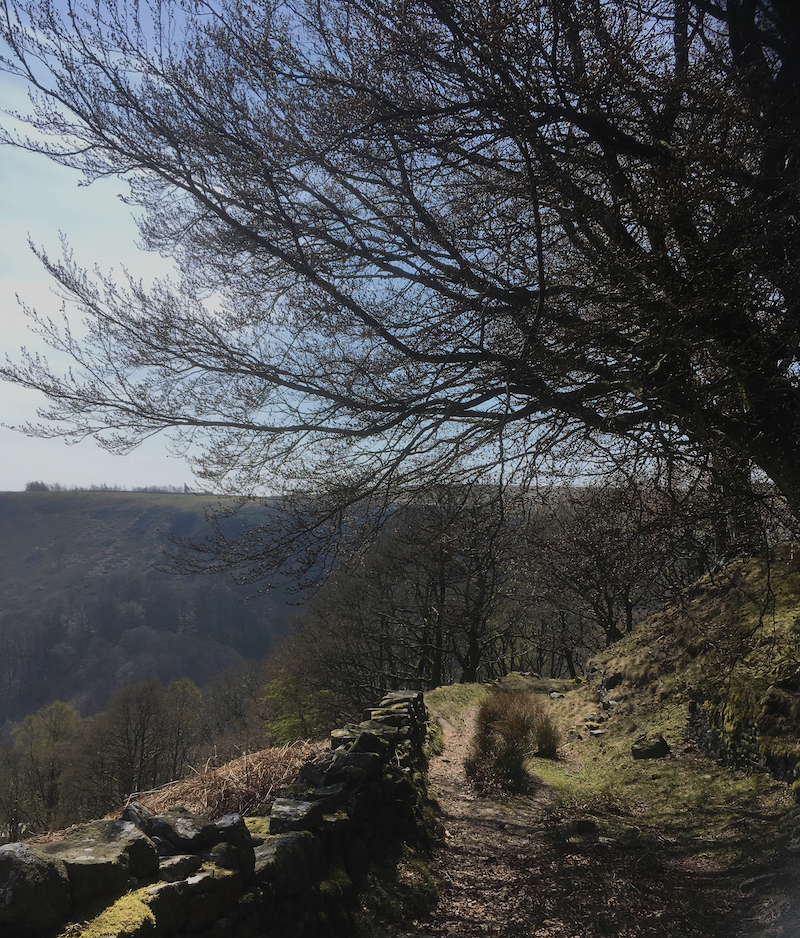 The walk is 2.1 miles along moderate to strenuous public footpaths. It is circular and involves climbing up a hill, round and down again. It is mostly on moderate, well-worn paths. It begins with a gradual, meandering climb on a wide path, with a steep drop on one side at one point. After flattening at the top there is a more challenging steep descent, followed by a short uneven narrow stretch of pathway with a drop close to one side. The rest of the walk is gently declining or flat. There are 4 stiles, 3 of which are quite tall but very sturdy. The walk is taken at a slow pace and there are 15 stops along the way. Participants undertake the walk at their own risk. It is not suitable for those with serious mobility difficulties. Due to it being a largely reflective experience 'Words in the Wild' is not suitable for children under 14 or dogs, sorry.
Light route
There is a new lighter route available. This is 1.25 miles, easy-moderate in difficulty. It is mostly flat with some gentle slopes rising and descending and no stiles. There are some narrow areas of pathway. There are places along route to rest or sit on a wall or bank. Please bring walking poles or a walking stick seat for extra support if you would like to. It is not suitable for people with serious mobility difficulties or wheelchair users. Participants undertake the walk at their own risk.
If you would like a map of either route or have any questions please contact Emma.
'A lovely afternoon. It was so well-paced, well-planned (suitable even for dodgy knees), calming & your words were in perfect symmetry with the dramatic landscape. Big thank you.' Hilary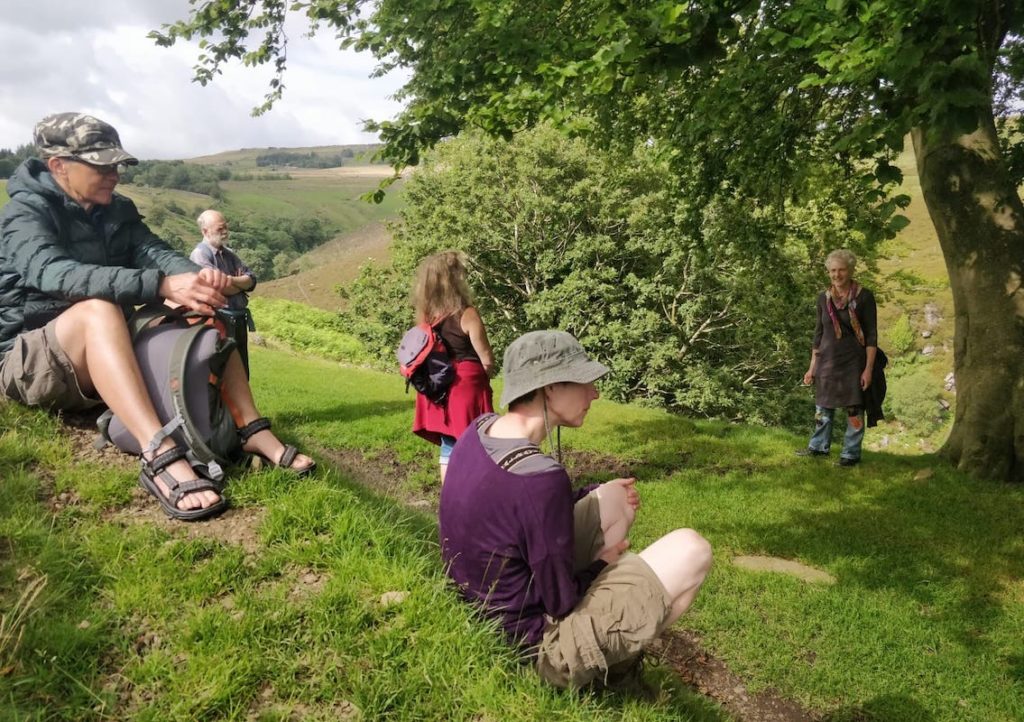 COVID19
Words in the Wild takes place outside and operating with a limited and socially distanced audience.
Please do not attend if you feel poorly, have any symptoms of Covid19 or have been in close contact with anyone who has.
Be aware that every gate or stile you touch will have been touched by others. Please bring your own hand sanitiser and take your own precautions.
PAYMENT
Small closed groups only at this time. £75 + for a group of up to 5. Can pay individually on the day or via BACS transfer
DATES
'Words in the Wild' takes by arrangement. Dates and times are organised subject to weather and demand. Organise your own and plan a time to suit you (including a dog friendly, child-friendly or sunset one if you would like!) Contact Emma to arrange.
BRING
Wear walking boots or shoes. Bring an extra layer, a drink, your own hand sanitiser and cash to pay.
TO BOOK
Please email Emma for booking or more information: emmadecent@talk21.com
'Thanks for a very special walk yesterday. I loved the location and the wonderful views and your presence of quiet and stillness. I hadn't realised how much I needed that. Your poems are beautiful, you say so much in a few words. The peacefulness of the walk will stay with me.' Sue from Barrowford
'When I came on the walk I was feeling quite low in spirits following on from the whole experience of lockdown. I found that listening to Emma's thoughtful and timeless words in this lovely landscape lifted my mood and helped me regain a sense of perspective on life.' Anna
'Dave and I really enjoyed our afternoon on Words in the Wild. Emma made sure that everyone was made to feel welcome and her beautiful prose and poetry was perfectly matched to the the landscape. We walked, listened, reflected and shared in the joy that Emma clearly has for the hills that she walks every day.' Alison
'I really enjoyed yesterday's walk. I have to admit I don't much like listening to poetry read live, especially poetry I'm not familiar with, it can be too intense to take in. However, you have developed a style that is performance friendly without compromising on the poetry. I also really liked your introductory remarks: in these uncertain and anxious times, I felt we all knew where we were. So thanks for all that. A lovely afternoon.'
'What a privilege to be part of this walk and listen to Emma's words in such beautiful surroundings. I found the whole experience to be profoundly moving. The word that kept coming into my head as I walked and listened was tender. For our connection to the earth, to the sky, to each other, and the way Emma's words wove all these elements together.'
'Thank you for the lovely walk yesterday. I want you to know how good an experience it was for me. I am shy of groups, rarely walk with others and much prefer silence. So what a treat to be with others and be allowed that space and silence. From the grounding you did at the beginning and all along the route, the atmosphere you created was sacred to me, intimate and also expansive in the ideas presented of the disappearing selves. The quiet space poem moved me to tears and echoed a deep need, to be still, to matter.' June
'Thank you so much for the poetry walk, such a beautiful, quiet route you found. I loved the reflective nature of the whole experience, how your words brought you right into the landscape in a very intimate, unique way. Gazing upwards while listening to your poem about the skies was wonderful! I found several of the poems particularly moving when set against the landscape – the evocative image of stories under the stones was very powerful.' Rachel
'The walk is led by talented Emma who gives words to the voices of our valley, it's rocks, it's hills it's trees, inspiring a deep love for our landscape and instilling a desire to know and be close to our own hills.' Ros
'This was a magical experience, listening to Emma's beautiful poems while walking in the landscape that inspired them.' Karen
'A new way of experiencing the hills you might already know and love. Step out with Emma, away from the day-to-day, for a unique walk through the woods and upland. A perfect combination of mindful strolling interspersed with poems and prose to spark the imagination.' Jo
'There's something wonderful about hearing Emma recite her work in the landscape that inspires her. The words flew off the page.' Kate
'A wonderful and unusual way to experience this beautiful landscape.' Jen